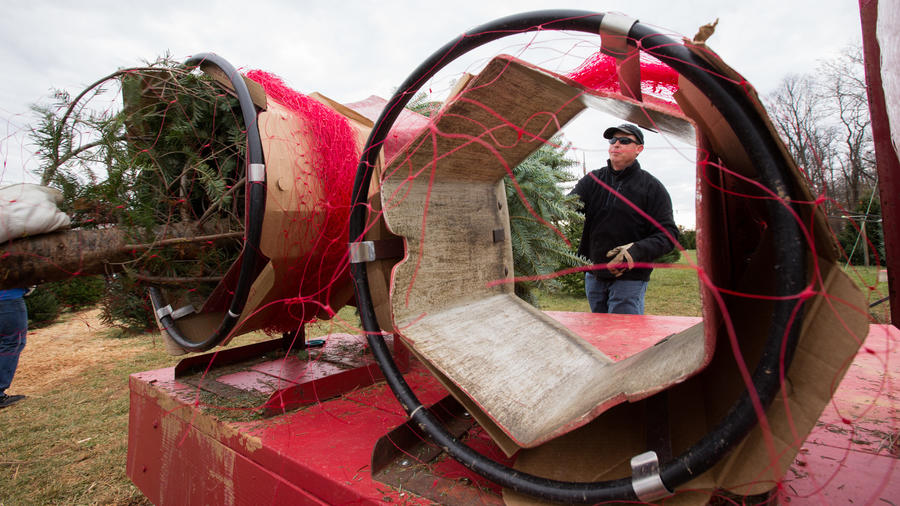 ---
We are now closed for 2020. Thank you for all of your support and have a wonderful holiday!
---
Merry Christmas from Greenway Farms!
We offer a selection of cut-your-own Christmas trees, including blue spruce, Norway spruce, white spruce, Canaan fir and Douglas fir trees, all grown at our Christmas tree farm in Howard County. We also have fresh-cut Fraser fir and Douglas fir for your convenience.
In addition to Christmas trees, we sell beautiful poinsettias raised in our greenhouses. We also have fresh wreaths and pine roping for decorating, as well as locally made crafts in our Christmas shop. There is a train display at both locations, plus plenty of hot cocoa and hot cider!
This is a real Christmas experience for your family. There's nothing that compares to getting outside, finding and cutting a tree, and warming up with some hot cocoa in the Christmas shop. This is what holiday memories are all about.
Start your own Christmas tradition at our Howard County Christmas tree farm!
Thank you and Merry Christmas!
The Healey Family

Visit our greenhouses in the spring for vegetable plants and flowers. Learn more.
---
Beautiful trees and delightful, helpful people! They even answered several questions I had before coming to the farm. I highly recommend Greenway Farms. Thanks for a great experience and Merry Christmas!"


Stacy S.
---
Plan your visit to Greenway Farms
• Weather permitting, hay rides will be offered at our Woodbine location and local favorite C.J.'s Pit Beef will be available starting Thanksgiving weekend and weekends in December!
• Leashed pets are welcome. Woof! Woof!
• Heated restrooms.
• Saws and twine are available for your use at no charge. Also, there is free shaking and baling of trees that makes them easier to get home.
• Click here for pricing. (For your convenience, please note that we accept cash, checks and credit cards.)
---
What a terrific family farm. Very helpful and nice folks here. Great tree & poinsettia selection. Definitely stop by Greenway for your tree this year!"


Melissa E.
---
Our choose-and-cut Christmas tree farm is located at Woodbine in western Howard County, near the intersection of Routes 97 and 144 and convenient to I-70.
• Woodbine field 15097 Frederick Road, Woodbine, MD Woodbine hours: Monday – Friday 11 a.m. – 6 p.m. Saturday & Sunday 9 a.m. – 6 p.m. (Please note that the choose-and-cut field is open until dusk, but fresh-cut trees are in a lighted area open until closing time.)
• Cooksville field 14098 Reps Road (off Monticello Drive), Cooksville, MD. Cooksville hours: Saturday & Sunday 9 a.m. – 4:30 p.m.
We love a snowy Christmas as much as anyone, but please note that all hours and dates are dependent on winter weather conditions!
---
We get our tree here every year! Everyone is so friendly and helpful!"


Michelle H.